Door to Door, SeaTac and More!
Rocket Transportation is the ONLY true DOOR to DOOR Sea-Tac Airport shuttle serving Washington's Beautiful Olympic Peninsula.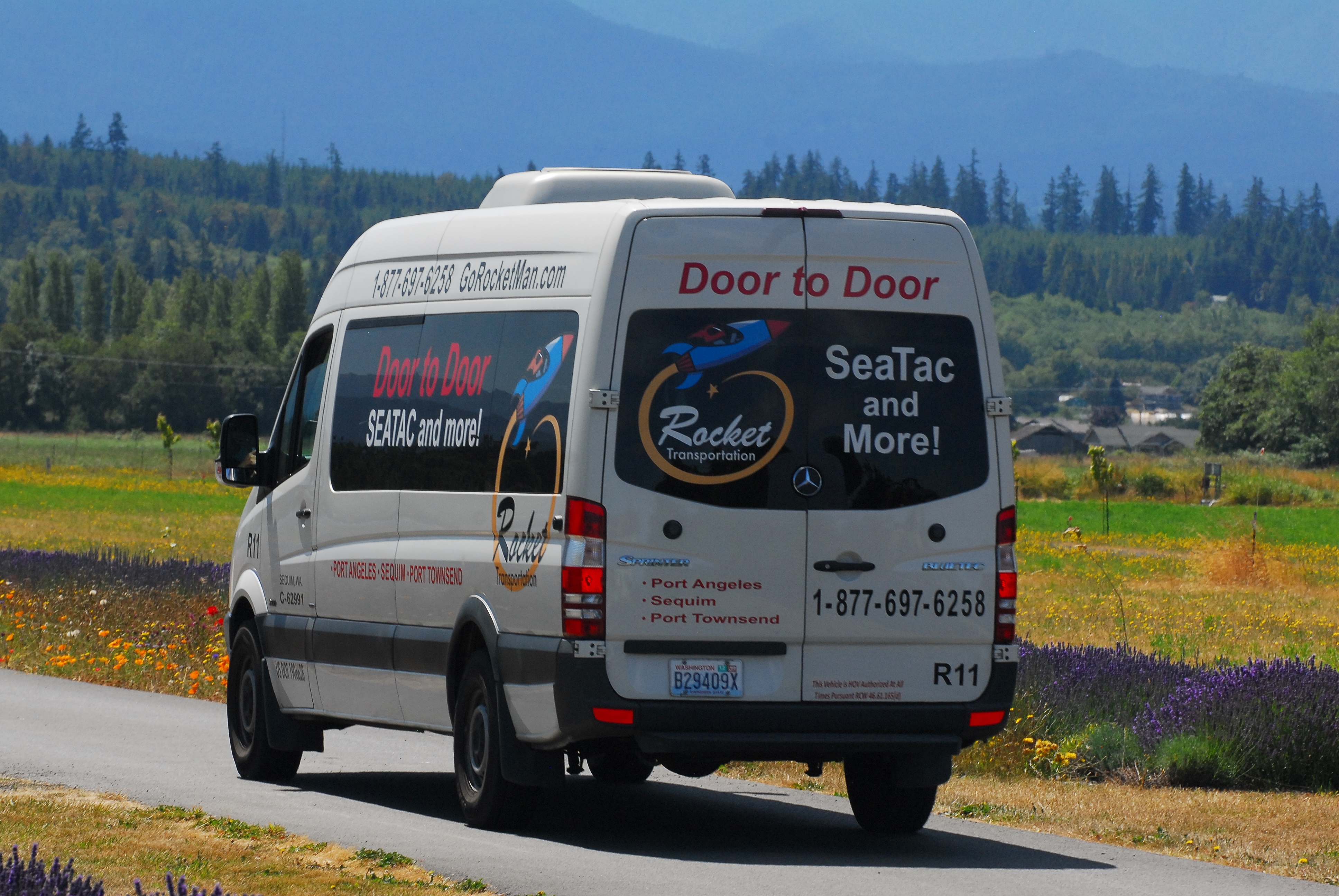 Changes for SeaTac pickups effective May 15, 2017
Pickups at Seattle Tacoma International Airport are moving from Door 00 secluded pickup lot to Door 2 Arrivals Deck
The most important part of this change are the limitations now imposed by the airport on the Rocket Driver and Rocket Van:
Maximum Wait Time on the Arrivals Deck is 10 minutes
All Rocket clients are expected to check in with their driver – now it is critical – leaving a voicemail for the driver is considered checking in (leave your name & phone)
Plan to be at Door 2 at least 15 minutes prior to targeted departure time
Paging and announcement options at this location are limited – keep an eye on the time and do not rely on them but know that we are working diligently to find options that work well for Rocket Clients and Rocket Drivers to successfully communicate
The van will not come to the airport early unless ALL passengers have checked in – keep your cell phone on and listen for the driver to return your call for earlier pickup
If all SeaTac passengers for that van have not checked in, the Rocket Van will be at the pickup location 5 minutes prior to the target pickup time and wait until 5 minutes after the target pickup time before departing
Rocket clients not outside at the van within 10 minutes of the Rocket Van arrival on the Arrivals Deck outside Door 2 may be left. If the van departs SeaTac without you, you may be on the next Rocket Van with space available.
Driver can not enter the airport to find passengers
Driver can not leave the van unlocked nor out of driver sight
Passengers are never to leave the curb with their luggage until instructed by the driver (this is moving traffic)
Passengers are never to take their luggage to the rear of the van – please handoff your luggage to the driver just prior to entering the van
Passengers will not be able to enter the van until all SeaTac passengers are accounted for.
If the driver must walk away from the van (to make announcements or assist a client with luggage from Door 2) all passengers on the van must disembark so that the driver may lock the van
Rocket is aware that these changes bring an additional level of inconvenience to pickups at SeaTac. We are doing our best to continue our reliable service within the rules set forth by SeaTac.
The following pictures may assist you:
Rocket Contact Numbers
Please note, if you are planning on using our service contact our reservations team at 1-877-697-6258 Monday-Friday 8:00AM-7:00PM PST first before you purchase your plane tickets so that they can check shuttle availability for you.*
Rocket Transportation also offers DOOR to DOOR ground pet transport service that will reliably and safely get your beloved pet home to you. We can also drop off your pet at the Airport, Amtrak, Greyhound or any of the major transportation hubs in Tacoma or downtown Seattle as well.
Reasons why you should use us:
Rocket Transportation – Providing safe comfortable rides for you and your beloved pets.